Mayfair is known as the stylish heart of London's West End, where elegant townhouses and exclusive hotels line the streets. But there's more to this luxurious area than just architecture, and anyone who knows where to go can attest to just how lively and how much fun Mayfair can really be. 
Here's how we recommend spending your evening for the ultimate night out in Mayfair. 
Start with a drink at Claridge's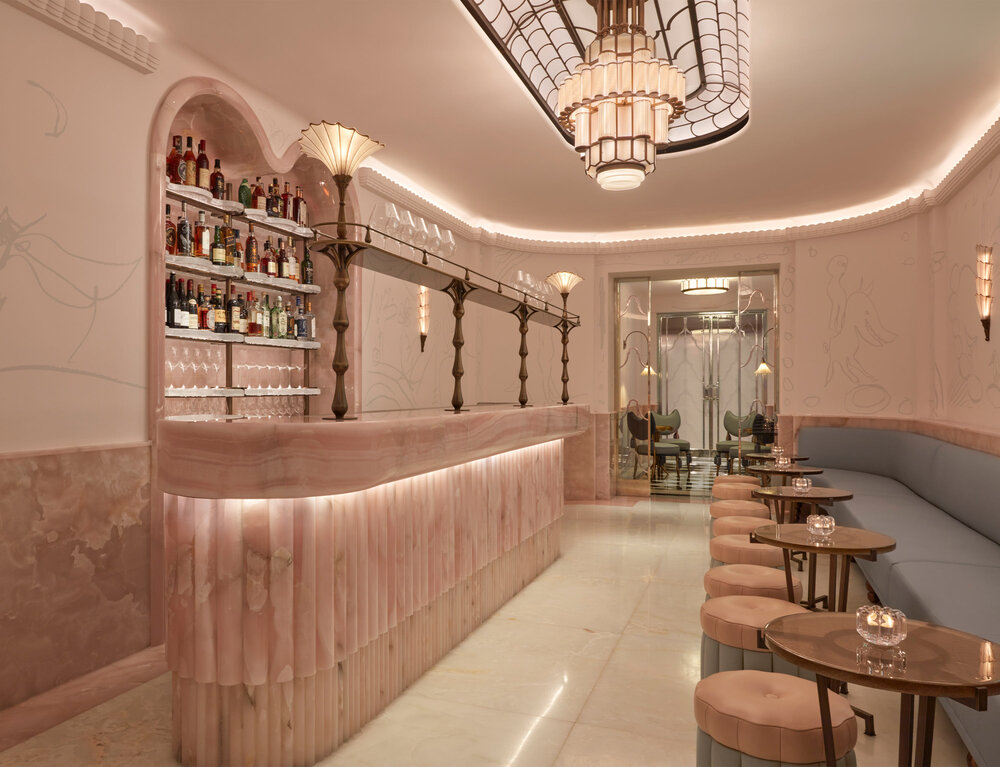 Photo credit: Bryan O'Sullivan 
London's Claridge's is one of the most famous establishments in the world. A luxury hotel at its heart, Claridge's is also an exceptionally glamorous place to begin an evening with a drink. 
In particular, head to The Painter's Room within the hotel. True to its name, The Painter's Room is modelled after the artistic styles of Provence and Italy, decorated in the lush art deco style, with warm blush pinks and soft yellows creating a welcoming palette of a space where you can indulge in a premium cocktail. 
While you're there, be sure to admire the bright stained glass mirror adorning the room, a beautiful piece by London-based artist Annie Morris. She is also the talent behind the murals of animals in to hats that decorate the walls, adding a dash of fun and light-heartedness to this ultra-elegant and swanky cocktail lounge. 
Be sure to book in advance as space is very limited. 
Stroll through Grosvenor Square and Mount Street Gardens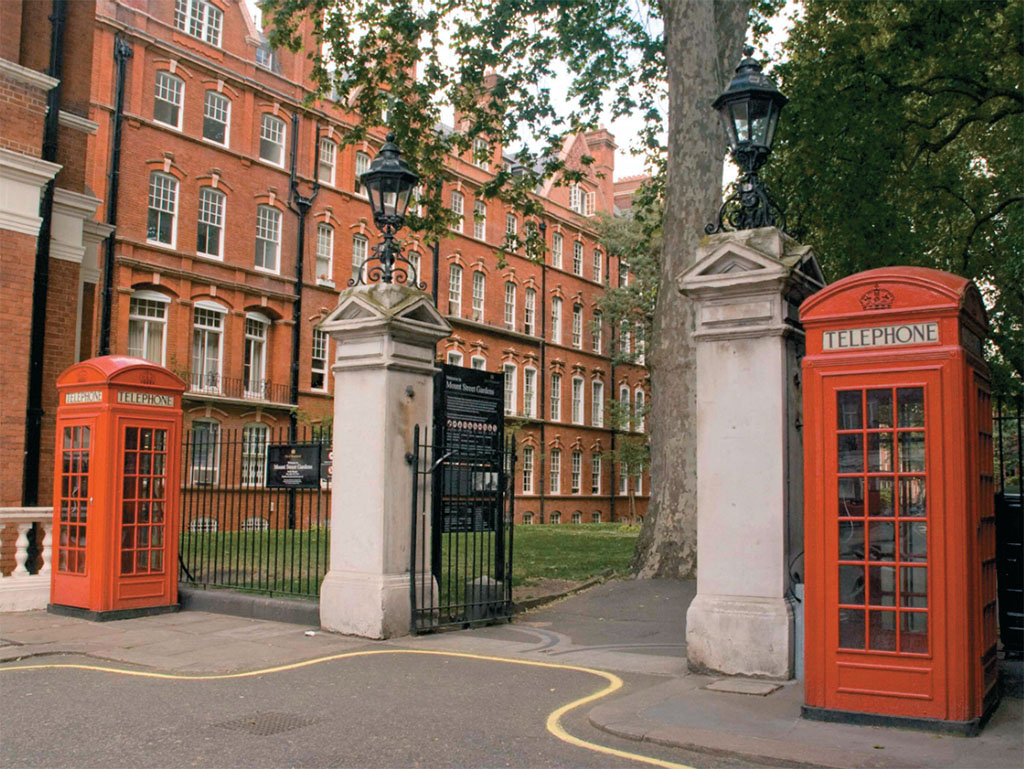 Photo credit: British Heritage Travel
From Claridge's, first make your way to Grosvenor Square, a historic large garden square in the middle of Mayfair. This square was the first of its kind in the city, where it was created in the early 1700s and became a genuine attraction as a little piece of the country in the middle of the city. 
Today, it's well worth taking a few extra minutes to stroll around and explore the gardens in the evening light. 
From there, it's just one block to the Mount Street Gardens. These gardens are smaller and lesser known, but are spectacularly pretty – especially in spring time. 
Not only are these gardens both on the way to your next destination, but you'll also appreciate the chance to work up an appetite for dinner. 
Enjoy an early dinner at The Meat & Wine Co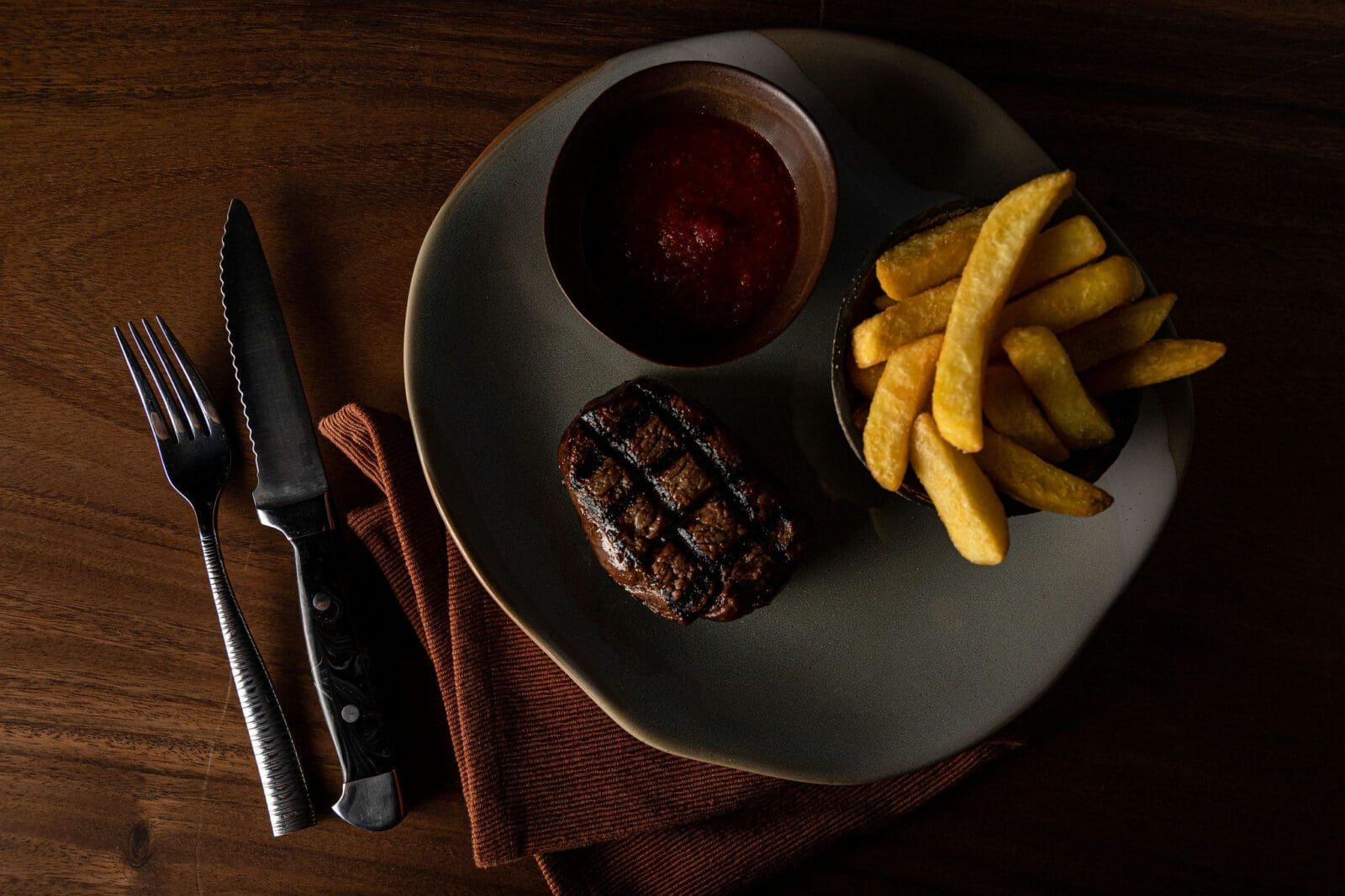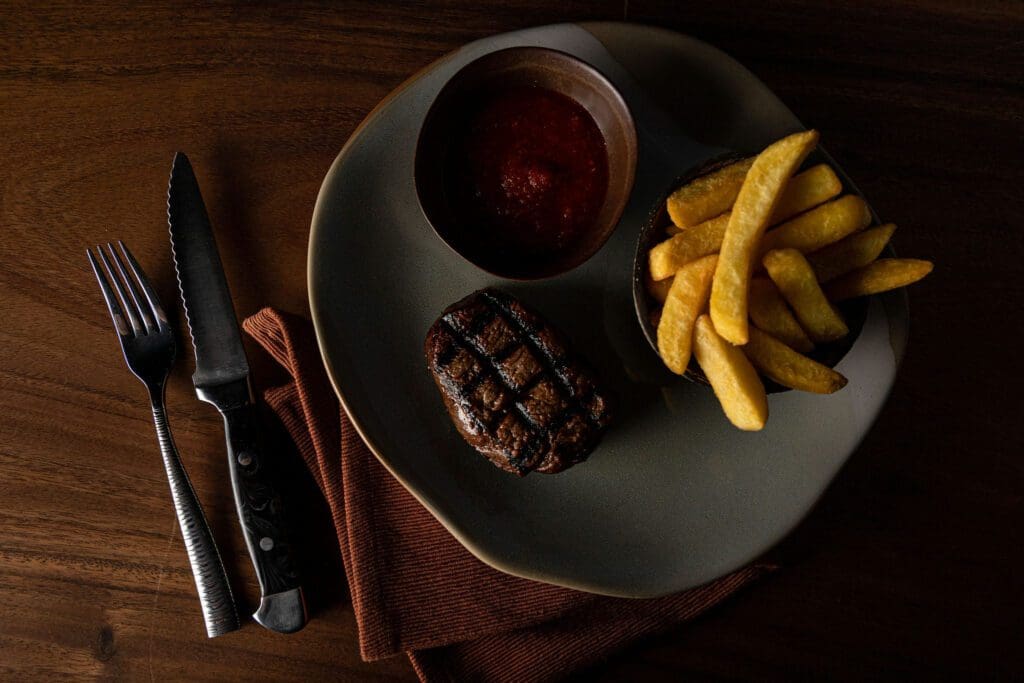 The Meat & Wine Co is Mayfair's go-to premium steakhouse. It's a fine dining restaurant that incorporates African culinary traditions with modern cuisine, all in a warm and welcoming space that helps you feel at home from the moment you arrive. 
The star of the menu here is the in-house dry aged steak, which is made with an exclusive technique that allows the chefs to infuse subtle flavours into the meat during the drying process. The flavour infusion changes with availability, so you might discover a totally unique coffee-infused steak or a truffle-infused cut, or you might prefer the unflavoured cut for something more classic. Needless to say, each steak is cooked to perfection to your liking. 
Yet there's more to this jewel of Mayfair than just steak, from divine entrees to delicious skewers and decadent desserts, not to mention the exhaustive wine list and inspiring cocktail menu. Make your booking in advance to secure your spot, and start exploring the a la carte menu to get excited about the meals on offer.
Attend the Immersive Gatsby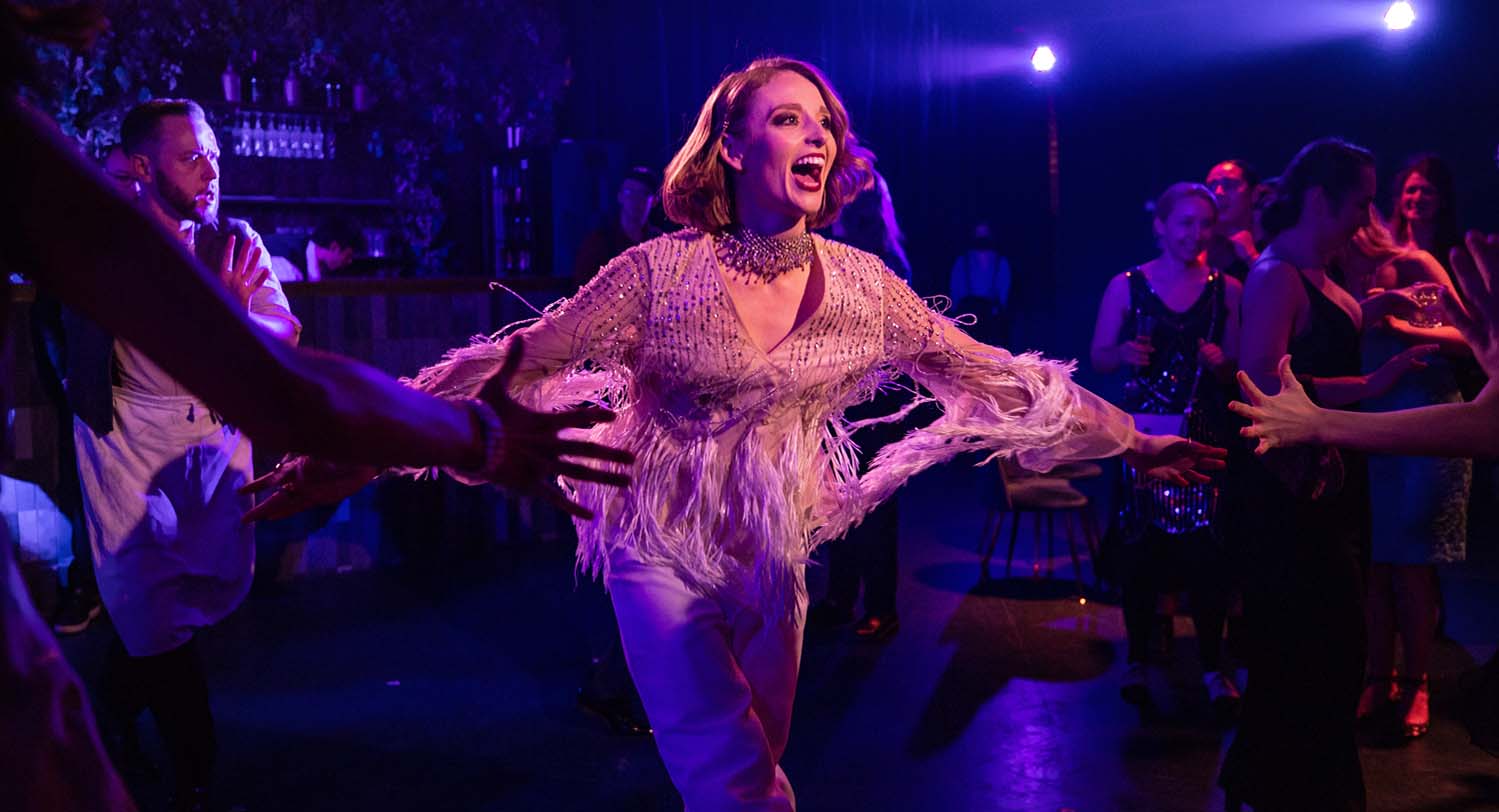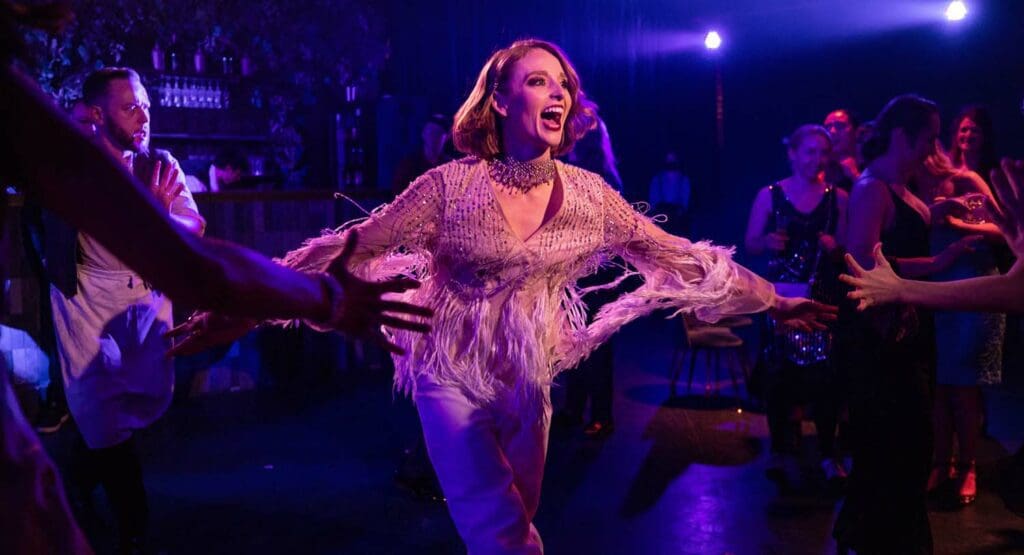 Photo credit: Immersive Gatsby
From the restaurant, it's just a 12-minute stroll up the vibrant Davies Street to your next stop – the Gatsby Mansion. 
The Gatsby Mansion is a place where you can step back in time – 100 years or so – and stroll into one of the most spectacular parties in London. This is an immersive event experience, where you're invited to dress to the nines in your best 1920s attire, grab a glass of bubbles, and watch as the drama and excitement unfolds all around you. 
Actors dressed as characters from The Great Gatsby bring this live theatre spectacular to life, and you can either sit back and watch it all unfold with your champagne, or get up and dance and take part. 
This experience is unique to Mayfair and promises an unforgettable evening.
Grab a late night treat from Badiani Gelato Mayfair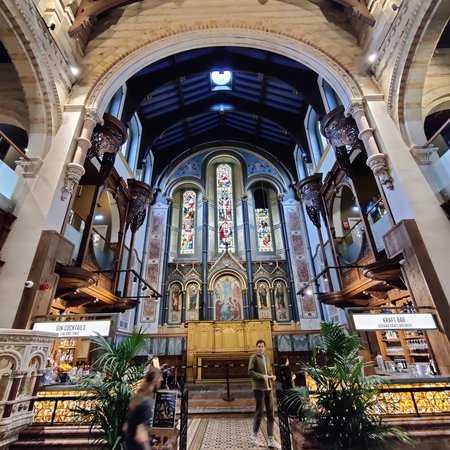 Photo credit: The Secret City
You'll need to cool off from all that dancing and excitement, so your next stop takes you just five minutes away to one of the best gelato shops in the country – and in one of the most stunning locations. 
Badiani Gelato is a traditional Italian gelato brand that has become a staple for dessert aficionados. With quality ingredients and authentic techniques from a master gelatieri, they have created a treat so delicious that you'll want to go back for seconds.
To make this visit even more special, Badiani Gelato Mayfair is found in a beautiful old church, so you can admire the architecture as you devour your dessert. 
Badiani Gelato Mayfair is open until 11.30pm on Fridays and Saturdays.
Finish the night with a drink at Mr Fogg's Residence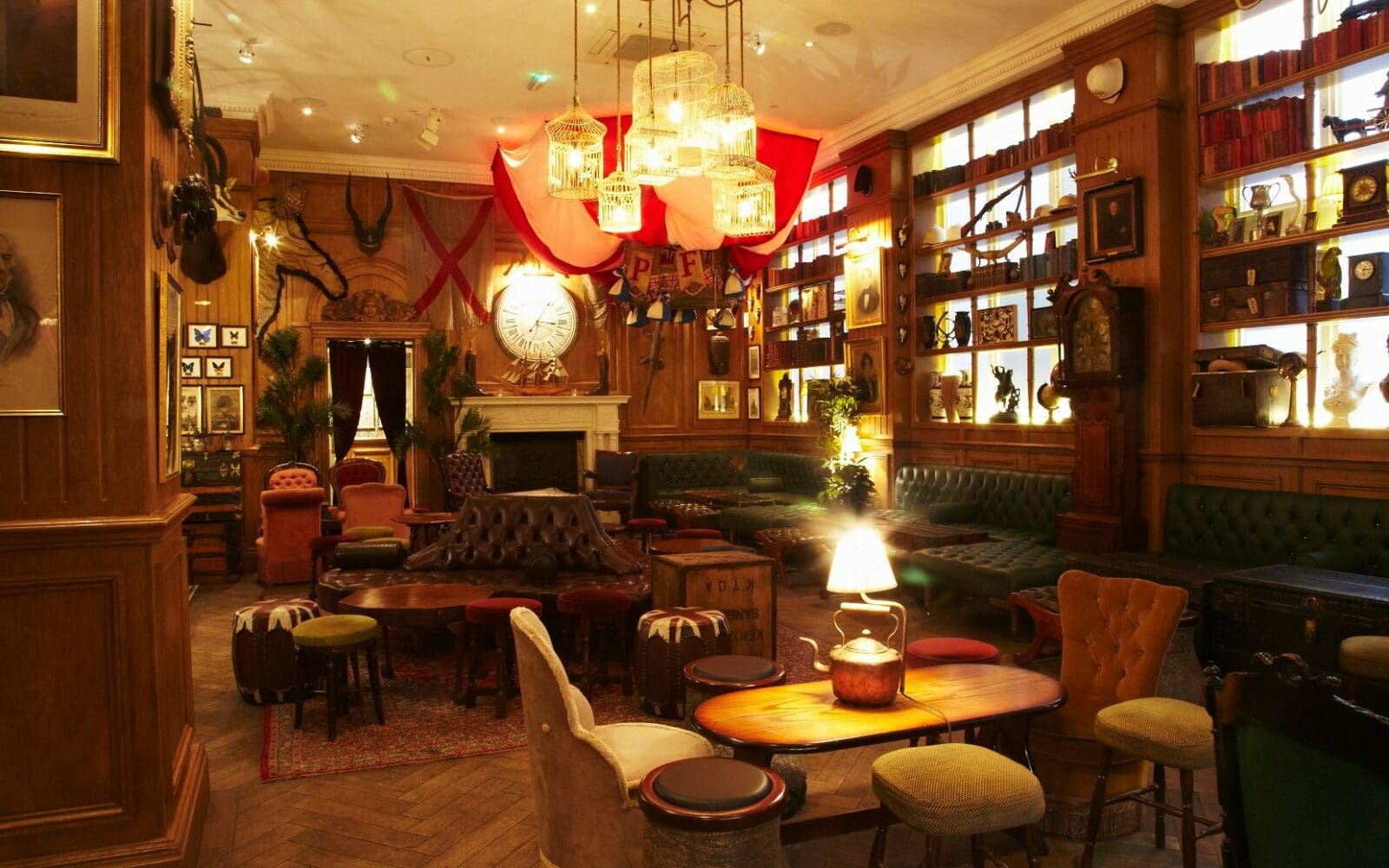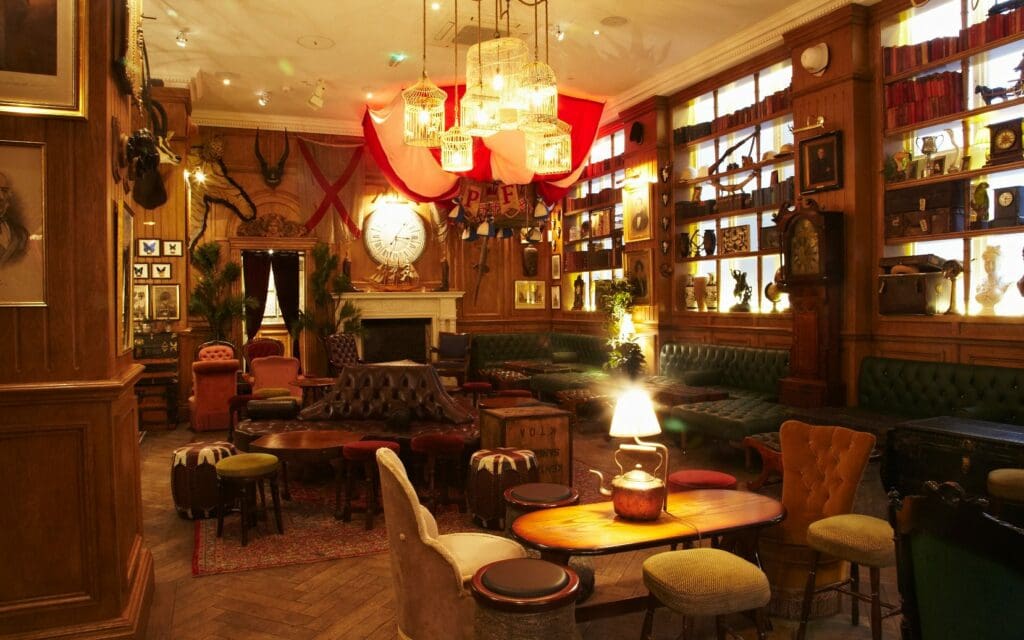 Photo credit: The Telegraph 
Since you're already dressed in 1920s garb, your best place to finish the night is at Mr Fogg's Residence. This beautiful cocktail bar is all about old-world charm, having been created as an homage to Phileas J. Fogg, of Around the World in 80 Days fame. 
It is set up in late 1800s style, and offers a drinks menu "as brave and adventurous as Mr Fogg himself", with flavours and ingredients sourced from around the world. Similarly, the artefacts and antiquities you see around the room are themselves genuine, setting the scene for an atmospheric and intriguing round of drinks. 
There's live music every Saturday night, making for a vibrant and truly special place where you can reflect on your incredible night out in Mayfair and cheers to yourselves with exceptional cocktails. 
Naturally, this is another place where you'll need to book in advance to secure a space.