It's no secret that London is stacked with halal stake restaurants, but the downside of this is that it can be difficult to figure out which ones are actually worth going to. To make things easier, we've compiled a list of the best halal eateries, including, of course, the top steak restaurant in London.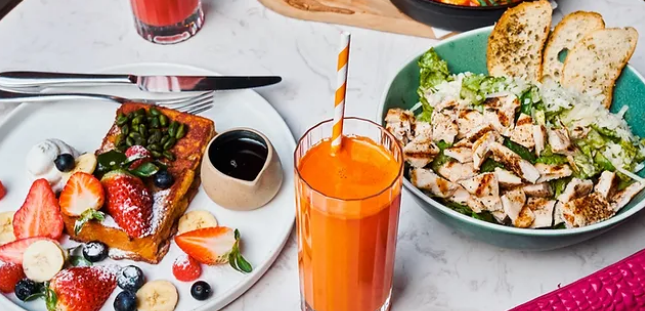 Photo credit: Drunch
Drunch Mayfair
Drunch is very popular for its delicious halal breakfasts. One of the standout dishes here is the Full English Breakfast which comes with halal bacon, sausage, and eggs, that are cooked to perfection and are sure to start your day off on the right foot. If you're in the mood for something lighter, they also offer a number of fresh juices, smoothies, and smoothie bowls.
Grounded
This is a great choice for breakfast fans as they don't even dictate that you can only have it in the morning. You can get their organic, all-halal menu seven days a week from 7am to 10pm. Make sure you try the incredible buttermilk pancakes which come with fresh berries, banana, crème Fraiche, and maple syrup.
Rabbit Hole Café
This contemporary café is definitely worth the trip, featuring items such as Full English, pancakes, waffles, and omelettes, as well as Mediterranean-inspired dishes such as shakshuka and falafel. Avocado lovers absolutely must check out their glorious avocado toast which comes with a range of interesting toppings.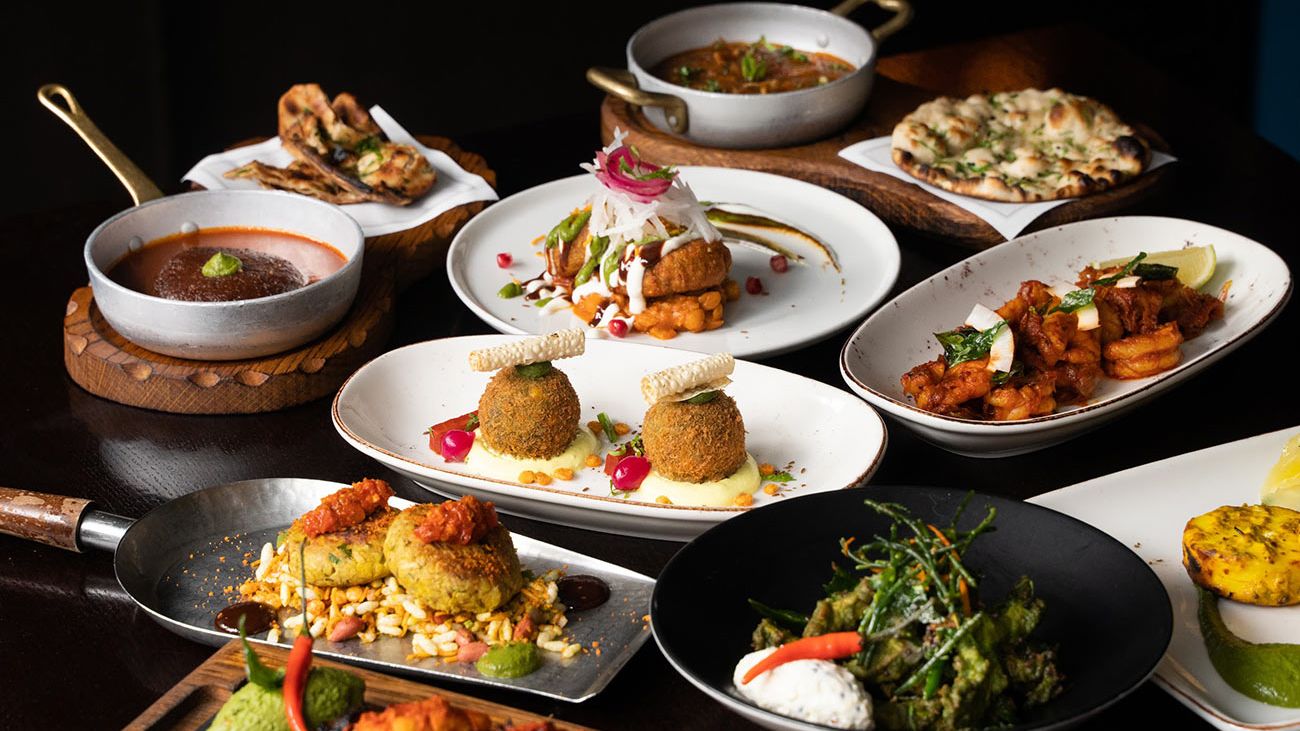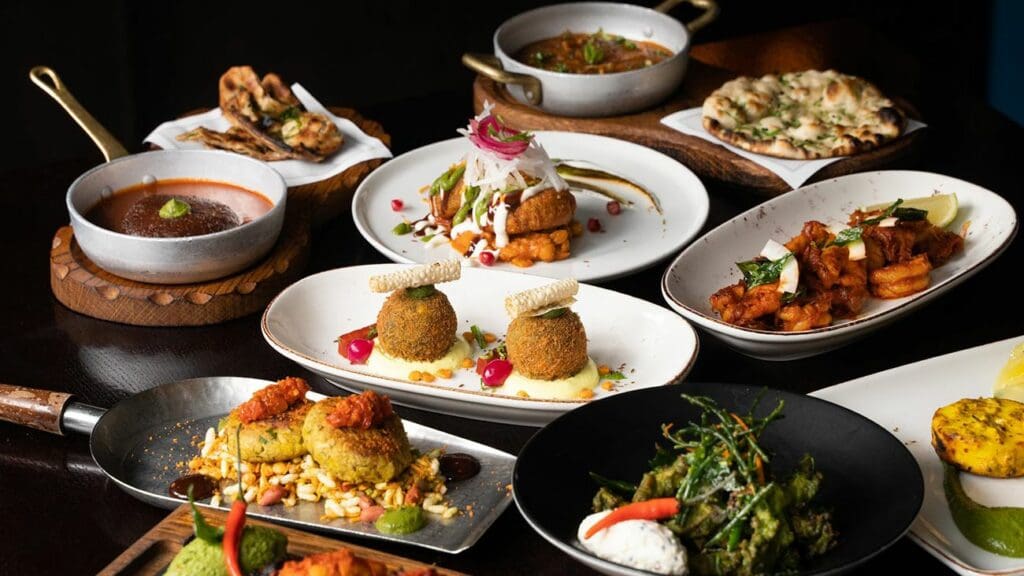 Photo credit: Jamavar The Fork
Jamavar
This is a Michelin-starred Indian restaurant in Mayfair that has some top-shelf halal lunch options. They make authentic Indian meat and vegetarian dishes, such as biryani, slow-cooked butter chicken, paneer makhani, and their famous tandoori lamb chops. We recommend the traditional Indian Thali, which is a platter of different dishes, giving you a taste of all their menu has to offer.
Novikov
The atmosphere at Novikov is elegant and refined, with a modern décor, and they do a fantastic job of delivering halal options for both Italian and Asian cuisines. You'll find scrumptious pizzas and pastas on the Italian menu, while the Asian menu boasts premium sushi and wok dishes, making it quite a unique offering for a restaurant of this quality.
Le Pain Quotidien
Le Pain Quotidien is a popular bakery-cafe chain located in Mayfair, known for its delicious halal lunches. Their menu is filled with a variety of sandwiches, pastries, baked goods, and salads that are perfect for a quick and easy lunch. They use a number of delightful fresh ingredients such as organic breads, cheeses, and vegetables, and if you're looking for the tastiest of ham and cheese sandwiches, be sure to try the Croque Monsieur.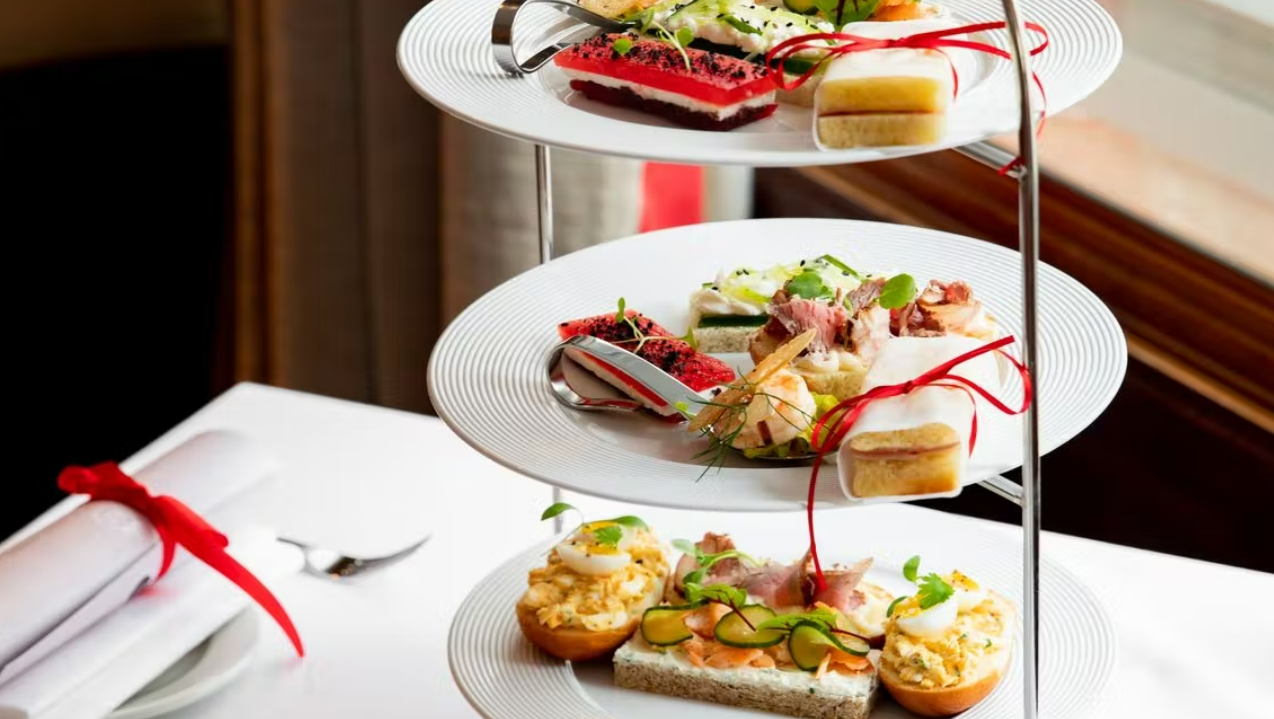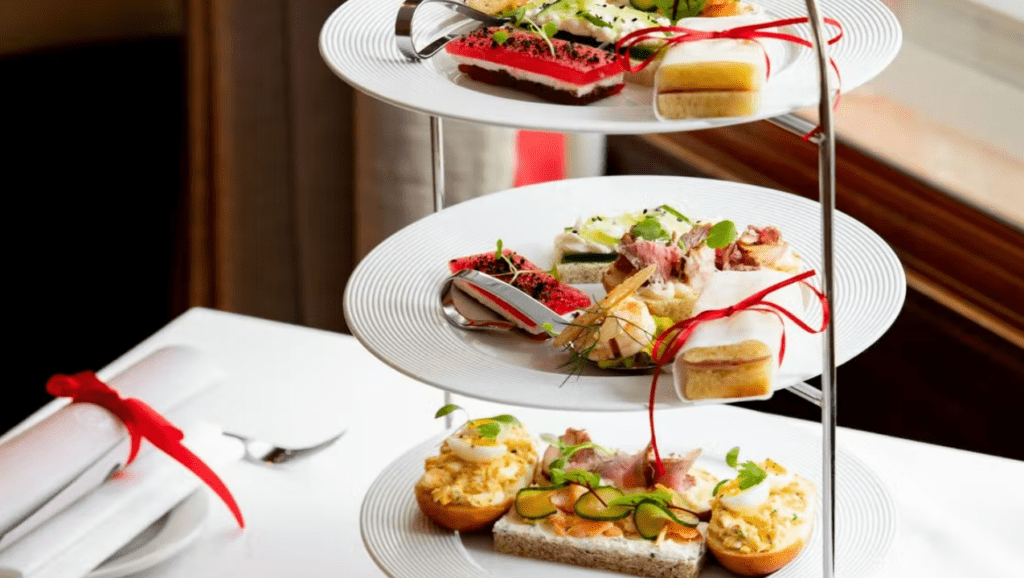 Photo credit: Five Star Days
The Cavendish
This luxurious hotel offers a range of halal-certified dishes, including a traditional afternoon tea. Afternoon tea at The Cavendish features a selection of sandwiches, scones, and pastries, all made with halal ingredients. They also have a superb range of beverages available to accompany the food.
Kai Mayfair
This exquisite halal-friendly Chinese restaurant has a special 'Chinese Whispers Afternoon Tea' which is something every Londoner or tourist to the area should try at least once. It features a variety of exotic and domestic teas, champagne, and some sweet and savoury Chinese delicacies.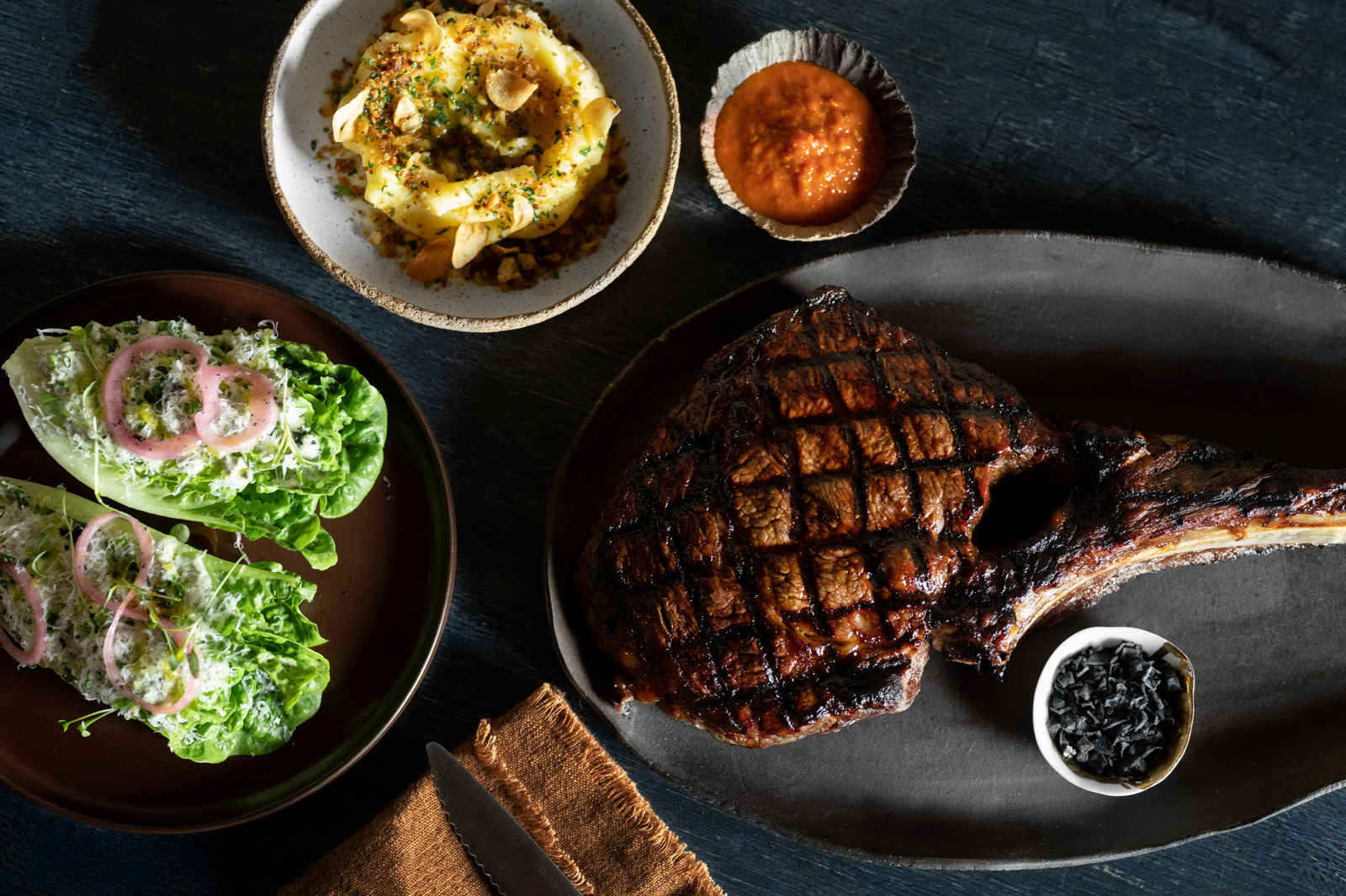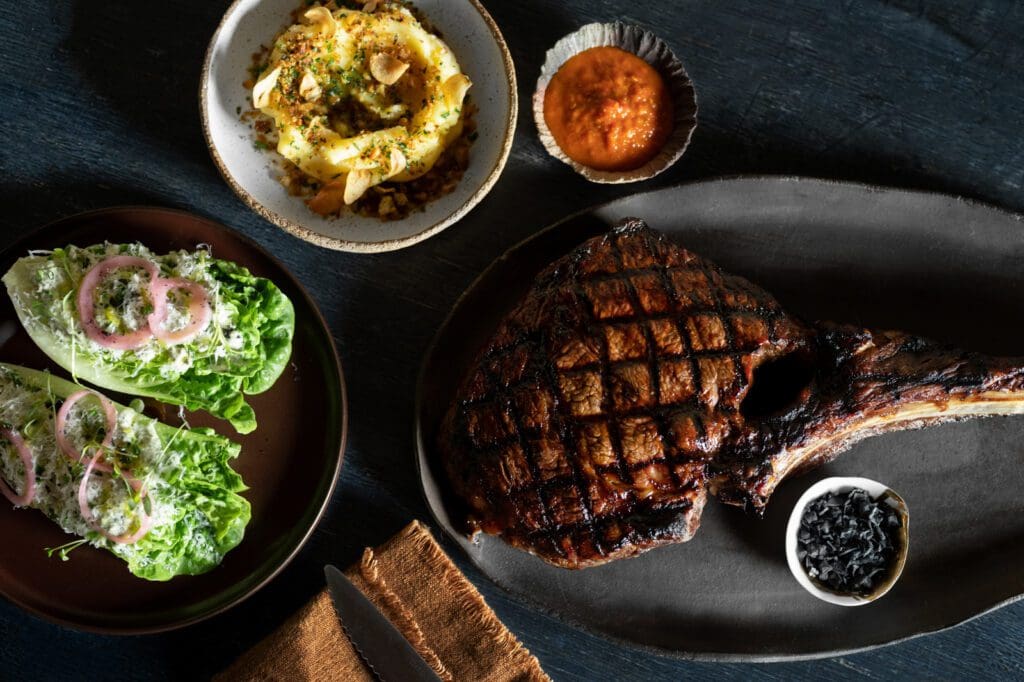 The Meat & Wine Co.
If you're looking for a halal dinner, The Meat & Wine Co will dazzle you with succulent delights, striving to convince you that you've been to the best steak house in London. This phenomenal fine dining restaurant incorporates African culinary traditions with modern cuisine, all in a warm and welcoming space that helps you feel at home from the moment you arrive.
You may have had some good halal steaks in London before, but The Meat & Wine Co's in-house dry aged steak takes it to another level. Each steak masterpiece is prepared using an exclusive technique that enables chefs to infuse subtle flavours into the meat during the drying process. This is heaven for steak lovers and will turn patrons who don't usually get excited about steak into genuine connoisseurs. 
While we'd always encourage first-time customers to experience the difference with a steak at The Meat & Wine Co, their alternatives are of such a high standard that regulars will often want to make sure they try everything on the menu. From their mouth-watering chicken and seafood skewers, to the beef ribs and vegan risotto, the mains available are unforgettable. Then there's the amazing range of entrees and sides, tremendous wine list, and inspiring cocktail menu to enjoy.
Make a reservation to devour the best halal steak restaurant London today!